Here are a couple of pictures of my Jayne EMT costume: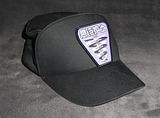 Screen accurate vest and (almost) screen accurate coverall (the white star of life is missing on mine, but you can only see it without the vest, so I don't care). Correct penlight and name tag.
The only things missing are the Luxel dosimeter and the white thing in his breat pocket.
Here is a mockup what Jayne's dosimeter could look like. It's never clearly shown so I guess that his fake name is not on it.
Unidentified thing in his pocket. If you know what that is, PLEASE let me know!