Another, "Getting stuff done" item:
This is a scan of the River Tam Brain scan I bought from Geoff Mandel a few years back.
This is the scan Dr. Josef Mathias was holding in the scene where Simon is watching River in the chair.
I don't have a back-lit panel, so the image isn't perfect,
but there is some good info on this;
just like the Prop Store images of the info plates handled by the Operative.
By combining the info on the scan with the Propstore images, we see that:
River Tam (Test Subject 443/95/4521) was entered into the Osiris School for the Gifted on August 22nd, 2515.
The Alliance designation for the Osiris School for the Gifted is Alliance Research facility 41,
where River was tested on September 7th, 2515.
Once it was determined that River was a good candidate for the Alliance psychic program,
she was moved to the secret Alliance Research facility 54 for Project Oracle.
She was further tested on psychic abilities on October 13th, 2516.
It was expected that she would be finished with the program on June 4th, 2518,
but her brother, Simon Tam, removed her without authorization in 2516.
I think it is funny to note that River scored in the 98-99th percentile in everything except Social Interaction,
where she scored 47%.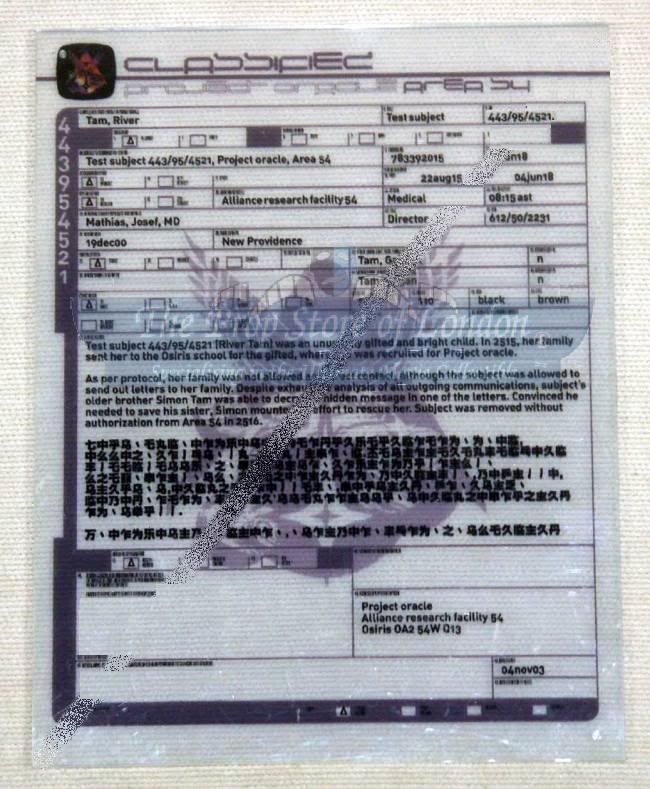 I attempted to remove the watermark in MS Paint, but that wasn't really feasible,
so I started transferring info and images to Word documents
so I could print on vellum and sandwich the sheets in clear plastic,
to create something similar to the plates the Operative handled in Project Oracle's library.
But that's another project that died on the, not-enough-hours-in-the-day, vine.
Mike