We haven't visited this in a while and I've seen plenty of suggestions over the years that build off the cannon or throw it out, but how about we start with the non-commissioned officers first. Take Mal. We know that he was a sergeant. Without arguing whether or not he was a basic sergeant or a first sergeant and so forth, let's just look at the rank he wears on screen. He wear the green triangle with the yellow bars and blue star bordered in black with black corners.
Example: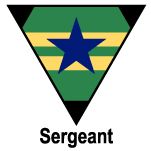 For sake of argument, let's say that the lower non-commissioned ranks are bordered in black, then we could build a very simple lower ranks thusly...

Easy to read, with none of the confusion that the star creates when used throughout all ranks.