I got Dobson's Cortex Access device a long time ago but couldn't garner much enthusiasm to finish it.
Then I decided it would make a good prop for the FFF, so I started working on it.
(The white panel is clear plexi with a protective covering.)
But I still really wanted to display it with the gun Dobson used to shoot Kaylee.
(Sweet Kaylee! What a scumbag...)
So I got it in my head to blow up the picture in the Firefly Companion of Dobson's Astra 400 and just build the thing from scratch.
Eh, what the heck.
If it looked like crap I'd just throw it out and move on.
(You can see the punch marks in the paper where I used a center punch to transfer the photo onto the half-inch thick aluminum I used for the grip frame.)
Well! I was pleased with the way it was going, so I bought real Astra 400 grips for it.
It's not screen accurate perfect but I'm really pleased with the way it is coming along.
I feel sure that few Firefly collections have Dobson's Astra and mine is even more unique because it is made by me.
The image for the cortex screen is from the web somewhere.
I added the lettering in MS Paint and printed it on photo paper.
The Alliance Passport is actually from my attendance at the 2007 Browncoat Ball in Philadelphia.
I'm just pretending it's a Dobson article.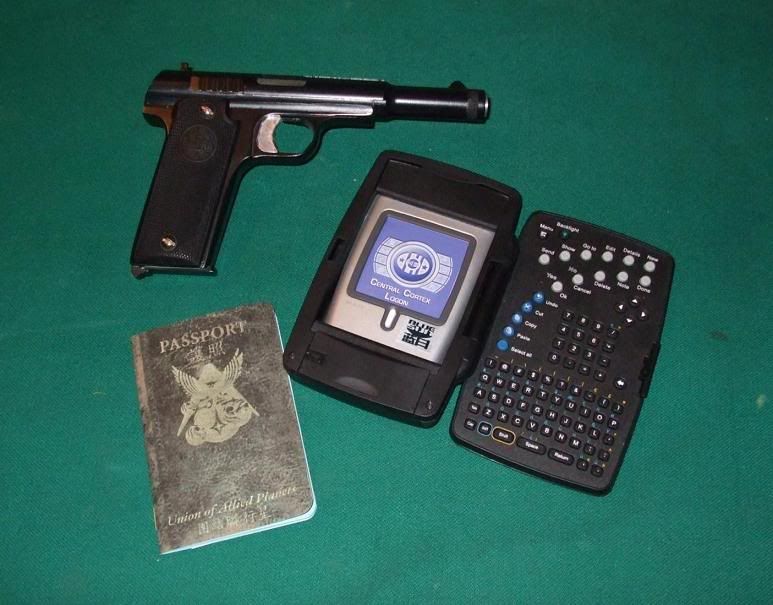 What I really want now is a copy of Dobson's Vektor to put with my Simon items.
I have had ZERO luck tracking down any type of Vektor prop or airsoft.
The Vektor was also the base weapon for Bruce Willis' "Fifth Element" gun,
but it is so heavily modified I can't reasonably back-date one.
I'd make one like I did with Dobson's Astra, but the Vektor has a lot of compound curves,
and I have little talent in duplicating those.
I'm doing Wash's Serenity Mateba-based pistol now,
and I DREAD doing the grips!
Mike