Far as the knives, I have no idea why I felt compelled to take on the Jaynestown knife
when the whole idea of the work I'm doing is to finish unfinished projects.
Well, actually, I do know.
After I built the Jayne War Stories apple-spearing knife,
I realized I only needed one more knife to be able to display all of Jayne's knives.
Plus, it'll look good with the QMx Hero of Canton poster.
Mine has an 8" long blade, 3/4" long black piece with a 3/8" thick brass hilt and a 5 1/4"-ish handle.
I based my sizes off the fact that the Jaynestown knife fit in Binky's sheath.
And, that was TOTALLY wrong.
Eh, TS, I'm not changing it now!
I made the blade out of stainless steel and I'm making the handle out of wood;
carved and painted to look like stag horn.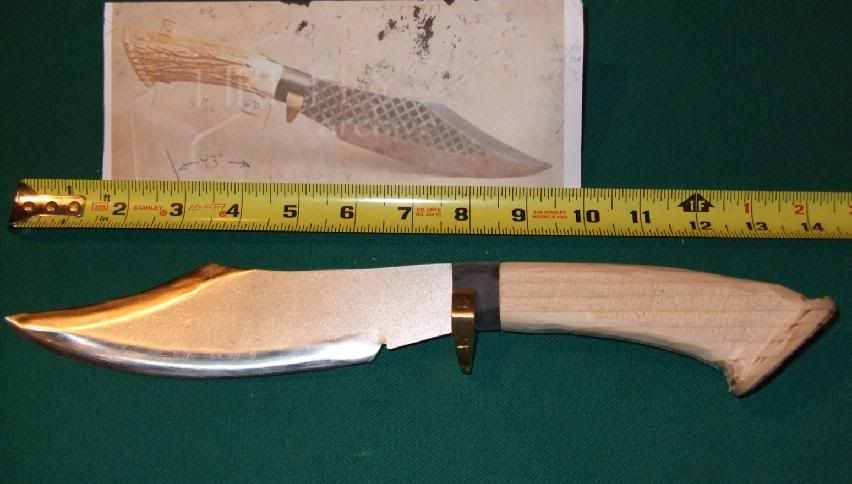 The blade is basically done except for painting the grid and a final polish.
The brass hilt is done and the black plastic piece just needs paint.
The "staghorn" grip is very in-process....
I've shown the other building steps;
the one that didn't turn out so well was masking and painting the grid pattern.
NOW I'm willing to say I'm not going to take on more work to strip and fix it.
As I've noted before, without a close up pic for comparison,
I think it will display nice enough.
If I wait to get it perfect, I may never display it.
"Boy, sure would be nice if we had some grenades,
(and some knives, and a big gun, and a funny hat made by Ma Cobb,)
don'tcha think?"
Mike